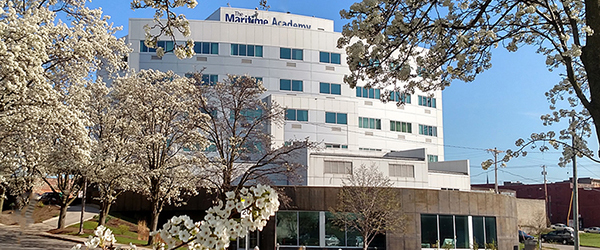 Our Campus
The Maritime Academy of Toledo's Campus is located at 803 Water Street, Toledo, Ohio 43604. Our Campus boasts high-tech classrooms, a teaching galley, mess deck (dining hall), swimming pool, theater, fitness room, board rooms, meeting rooms, commercial laundry, personal laundry, 30 hotel rooms, and much more!
Directions to The Maritime Academy of Toledo
The building is off Summit Street, at the corner of Walnut and Water streets. Please use the map below for navigation and directions.
A Ship in Dry Dock
The Maritime Academy campus functions as a "ship in dry dock". For this reason, TMAT uses nautical terms for the different areas of our building and campus:
Helm: Front Desk Area
The Bridge: Principal's Office
Commandant's Quarters: Superintendent's Office
Ward Room: Staff Lounge
Ladderwell: Stairs
Head: Bathroom
Galley: Kitchen
Mess Deck: Cafeteria
Squad Bays: Classrooms
Lower Deck: 1st Floor
Main Deck: 2nd Floor
Upper Decks: 3rd-6th Floors
Gangway: Entrance Foyer
Purser: Treasure's Office
Dock: Parking Area
Lucky Bag: Lost & Found & Extra Uniform (Free) Storage Area