College & Career Readiness Policy
Read our

College & Career Readiness Policy.
Emergency Notification Protocol
In the event of an emergency
at the school, parents/ guardians will be notified using the school's automated messaging service.
Public Records Policy
Read our

Public Records Policy.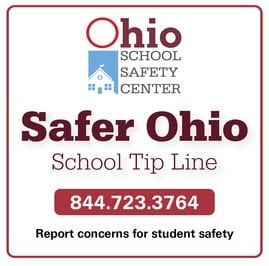 The Safer Ohio School Tip Line can be accessed via text or phone call 24/7.

Any tip you leave may be done so anonymously

The Tip Line phone number: 844-723-3764
The type of tips that may be reported:
Bullying

Withdrawn student behaviors

Verbal or written threats observed toward students, faculty or schools

Weapons/suspicious devises on or near school grounds

Gang related activities

Substance abuse

Unusual/suspicious behavior of students or staff

Self-harm or suicidal sentiments

Any other school safety related concern


Click the button above to download a fillable PDF form that you can type the information into, then E-Mail to the School Secretary.
If you wish, you may also print out the above version of the Enrollment Application, fill it out and bring it into the school.